QTIBPOC Creatives
Sunday 10 September 2023
3pm - 7pm
RICH MIX
Rich Mix - 35-47, Bethnal Green Road, E1 6LA
Call Out for QTIBPOC aged 18-35 years
Would you like to be inspired and develop your creativity in a supportive group environment?
QTIBPOC Creatives are producing a series of bite size short sharp taster workshops in arts and contemporary queer and trans Black culture workshops this summer
Participants are paid £20 towards their expenses when attending a workshop day
This is the final event of this block:

Fundraising, Money & Movement
AGENDA
We have an exciting one day programme where you can gain knowledge and understanding of creative freelance management, funding opportunities and we end the day on a fun and lively note
Kei Maye will deliver an interactive session on creative freelance management by sharing some things you should know about how to make money out of your creative practice. How to pitch, invoice, do presentations and much more. INSTAGRAM
Cheryl Gallagher will be offering insight into Arts Council England funding. During Cheryl's session, she will take you through the types of funding available, how to apply, when to apply and the types projects that the Arts Council fund. INSTAGRAM


Speakerbox Street Party crew will then facilitate a jam session. This will be a lighthearted bit of fun, movement and networking for all to enjoy. INSTAGRAM
So if you're aged 18-35, Black or PoC, identify as LGBTQ+ and would like to take part in this, please reserve a ticket for entry on this link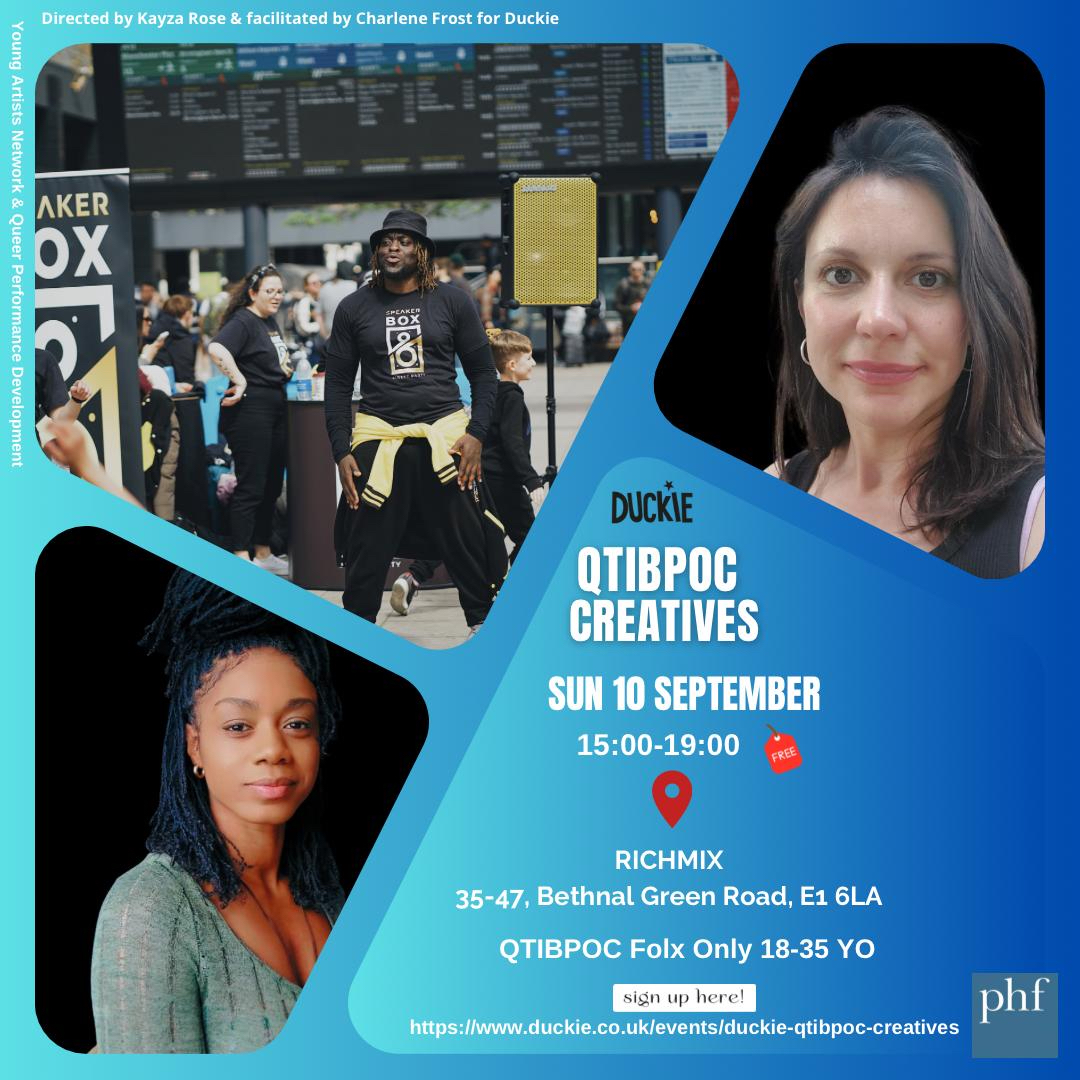 QTIBPOC Creatives is a participatory arts and performance project, directed by Kayza Rose and co-curated & delivered by Charlene Frost for Duckie. It has been running in London in various formats for the past two years - 30 weeks in St Paul's Church Hall in Hackney, 8 weeks in Queer Circle in Greenwich, a few online international Zooms - and is funded by Paul Hamlyn Foundation. For the final events, we are staging four bitesize weekend tasters, presenting 3 short, sharp workshops at each
COMMUNITY ENGINEERS
Kayza Rose
Kayza Rose is a dynamic creative producer, artistic director, filmmaker, activist, Royal Central School of Speech and Drama lecturer and cultural leader. For more than a decade, she has focused her work on creating change for Black and POC through a variety of creative and artistic endeavours for community-based organisations. She has worked with leading organisations such as Channel 4, Google, Somerset House, New Art Exchange, Arnolfini, BET, University of the Free State (South Africa), Hackney Empire, Counterpoints Arts and many more.
Kayza founded BLM Fest as a way to expand the cultural narrative around the Black Lives Matter movement. She is the creator of Allies Corner, an evening of discussion, screenings, camaraderie and education that highlights the art and stories of trans people. She also co-founded Black Girls Picnic, which is a healing space for Black women and girls, and produced VISIBLE (directed by Campbell X), a film about the erasure and sanitisation of British QTIBPOC history.
Since 2016, Kayza has developed a range of vanguard projects with Duckie including Duckie Family, Family Dinner and QTIBPOC Creatives. INSTAGRAM
Charlene Frost
Charlene Frost is a south London youth worker with a serious decades experience of mentoring and supporting young Londoners to reach their potential - through music, arts, community organising and wellbeing. In her mis-spent youth she was known as the original, innovative, queer female rapper Icykal, but she now operates as an artist manager at 212 Music Management, involved in nurturing the careers of emerging urban artists, providing strategic guidance, and facilitating opportunities for their growth and success in the music industry. As if that's not enough, she is also the co-founder of the fledgling Catford Pride, a local grassroots LGBTQ+ community festival. Charlene has worked with Duckie since 2021 INSTAGRAM
BACKGROUND
QTIBPOC Creatives is an experimental project for working class LGBTQI+ young people, aged between 18 and 35, from Black and POC backgrounds providing a grass roots cultural alternative route for ordinary young folks to use the performing arts as a tool for liberation, development and personal growth
We want to inspire creativity, resilience and confidence in young queer, trans and intersex Black & people of colour
The collective is committed to the development opportunities for Black and people of colour in the arts industry through co-educational learning and the sharing of skills and knowledge necessary to survive as an artist in London
The project is funded by Paul Hamlyn Foundation and Arts Council England
You can check the group out here on Instagram
In 2018 this project had an original pilot run for 25 weeks and performances were presented at Latitude Festival and Rich Mix